THE WORLD'S GREATEST AVIATION CELEBRATION…
Monday, July 24 – Sunday, July 30, 2017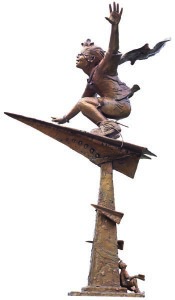 "When the idea popped into my head about attending the largest and greatest air show on the planet, I couldn't contain my excitement! Having been a pilot for the last 15 years, I have ALWAYS wanted to attend, but it was also always a 'some day' kind of a thought. Now being the manager of Gary Lee Price Studios and with all of our amazing aviation-themed sculptures, it is the perfect fit – I not only get to attend, but get to exhibit as well!
'Journeys of the Imagination' (pictured above) is a portrayal of me as a kid. I have always been fascinated by aviation and my dad captured that perfectly in this sculpture. As a kid, I would fold paper airplanes out of any scrap piece of paper laying around no matter where I was – at home, school, church, you name it. I actually went everywhere wearing goggles and a cape! I turned 16, started flying lessons, and eventually went on to fly professionally for several different companies. My dream as a kid actually came true – and now I get to experience the ultimate aviation celebration at Oshkosh 2017! Come join me and visit our booth!"
-Isaiah Price
Info about the show:
The World's Greatest Aviation Celebration has it all when it comes to aircraft. Warbirds. Vintage. Homebuilts. Ultralights. Some you would normally find in a hangar at your local airport, others so unique they are the only one of their kind.
You name it, there's likely an example of it at Oshkosh.
For many, arriving at Oshkosh is a rite of passage that can only be satisfied by being one of the more than 10,000 aircraft flying in, landing at what becomes the busiest airport in the world.
Whether you're an aviation enthusiast or an aviation novice, AirVenture has something for you. No matter what your age, you'll be entertained, informed, and thrilled by the countless activities available that reflect "The Spirit of Aviation" all around.
Daily air shows. Aerobatics and pyrotechnics. Nightly concerts. Feature films at the Fly-In Theater. Forums, workshops, and demonstrations. KidVenture. Special programming at Theater in the Woods. All of this, plus much, much more is included with your daily admission.
Add in the crowd-thrilling, show-stopping Night Air Show on Wednesday and Saturday night, and you have affordable fun for the entire family every day from sunup to well past sundown.
There is uniqueness to each AirVenture that keeps lifelong attendees coming back for more. You need to experience it to understand.
Experience AirVenture with us. Your spot along the flightline is waiting for you.
Stats:
Dates
Monday, July 24 – Sunday, July 30, 2017
Location
EAA Convention Grounds
3000 Poberezny Road
Oshkosh, WI 54902
Attendance: Anticipated to be around 600,000 in 2017.

Total aircraft: More than 10,000 aircraft arriving at Wittman Regional Airport in Oshkosh and other airports in east-central Wisconsin.
Total showplanes: 2,855 (up 7 percent over 2015) – including 1,124 homebuilt aircraft, 1,032 vintage airplanes, 371 warbirds, 135 ultralights and light-sport aircraft, 101 seaplanes, 31 rotorcraft, and 41 aerobatic aircraft.
https://www.eaa.org/en/airventure