National Sculpture Society – A Blessing of Animals
June 10, 2017 – January 31, 2018
Opening on June 10, 2017.  The Cathedral of St. John the Divine is located on the upper west side of Manhattan, on an 11-acre urban oasis in Morningside Heights. The largest cathedral within the United States (arguably the world), the NYC landmark is also a cultural hub for the arts, hosting exhibitions, concerts and literary readings. This exhibition will be installed in the central nave, which measures 48 feet by 210 feet. An active house of worship, the cathedral is visited by hundreds of thousands of tourists from around the world each year and open to the public.
Gary and a few other artists in the show have also been asked to be a part of the live sculpting demonstrations hosted at the Central Park Zoo on Sunday, June 25 (located smack in the middle of Manhattan, just off Fifth Avenue). The sculptors will work from life (the Zoo staff will time feedings and use some zookeeper tricks so the animals are visible most of the time). Members of the Central Park Zoo education department will also work with the sculptors and speak to the public – particularly young people – about the animals. Take this opportunity to sculpt the animals alongside Gary!
On September 10, the show will close in Manhattan and move to Naples Botanical Garden in beautiful Naples, Florida. It will open again on October 1, 2017 and run through January 31, 2018.
Naples Botanical Garden is a 170-acre world-class garden paradise that features the plants and cultures of the tropics and subtropics between the latitudes of 26 degrees North and 26 degrees South including Brazil, the Caribbean, Southeast Asia and Florida. A hands-on interactive Children's Garden along with 90 acres of beautifully restored natural habitats, walking trails and a Butterfly Garden offer educational entertainment and enjoyment for people of all ages. Founded in 1993, the Garden re-opened to the public in November 2009 after an extensive expansion.
Cathedral of St. John the Divine (June 10 – Sept 10, 2017)
1047 Amsterdam Avenue at 112th Street, New York, NY 10025
Naples Botanical Garden (Oct 1 – Jan 31, 2018)
4820 Bayshore Dr, Naples, FL 34112
"Saint Francis"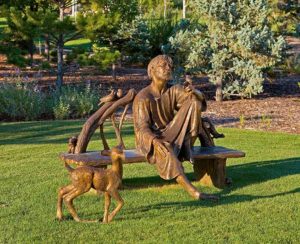 The Cathedral Church of St John the Divine has been gracious enough to also accept "Saint Francis" on long term loan.
The Cathedral and its surrounding gardens and buildings form an 11.3-acre complex collectively referred to as The Close. The Close is open to the public year-round during daylight hours, with two entrances located along Amsterdam Avenue at 110th and 111th streets. The Close is the site of the annual Saint Francis Day Fair in October, as well as other events throughout the year including outdoor music and theater performances.
Saint Francis will remain in the beautiful gardens throughout Summer and Fall 2017, and we hope that he will eventually become permanently installed (available for purchase/donation).